about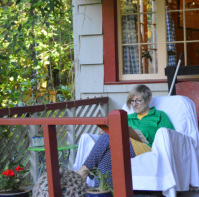 After writing non-fiction for many years I'm off on a new adventure. Fiction. Putting it all together in some kind of quasi-autobiographical mystery series - the travel, the lovers, the childhood, the rivers & oceans, the experiences & places, the whole glorious life of it.

Above is my summer office where I write. Most of the time in pajamas.

I've settled here in my sister's cabin in the foothills of Mt. Hood on the Salmon River after several lifetimes – a childhood in a small logging town on the Clackamas River, photographer in Seattle, thirteen years in L.A. starting out as a Photo Editor for the L.A. Weekly, then an award-winning magazine Art Director, and morphing to TV Story Editor/Writer for "Mama's Family," "Major Dad," and Knots Landing" for which I won the Soap Opera Award for "Best Storyline" two years in a row. (A mystery over several episodes we called "Jill's Descent into Hell," demented & much fun.)

After L.A. it was back home to Oregon and a column in my home-town paper, The Clackamas County News, then onto travel columns in The Sunday Oregonian, food and travel magazine writing, book editor & anthology contributor, and all kinds of stuff that free-lance writers find themselves doing.

Now this: researching photos, traveling, meeting with tribal members, on the newest project Enduring Spirit: Photographs of Northwest Native Americans 1855-1934.

And writing. In this cabin in the Oregon woods.



__________________________


A few other projects I love. I'm a board member on three non-profits:






Northwest Photography Archive
Expanding awareness of Pacific Northwest culture through the publication of seldom seen historically and artistically significant photographs in beautiful books. The Archive's first book was the award-winning
Wild Beauty: Photographs of the Columbia River Gorge, 1867–1957,
which led to a Portland Art Museum exhibit and subsequent television documentary on Oregon Public Broadcasting.
_______________________


A few pics in hats.

Summit Meadows on Mt. Hood; Catalina Island eco-tour; gathering vegetables at The Rice Place; with Lucy in Portovenere, Italy; goofing.